Bring brightness and clarity to even the darkest depths with our patented technology.
Our full range of lighting products
Click a product name or photo below to learn more about that product.
Click here to learn the difference between torches and strobes.
Product Name

Lighting Type

Depth

Lumen Output

Color Channels

Torch

1,000 m
or
6,000 m

10,000 Lm
1

Strobe

1,000 m
or
6,000 m
30,000 Lm
1

Strobe

IP68
30,000 Lm
1

Torch
300 m
6,000 Lm
1

Strobe

300 m
30,000 Lm
1

Strobe

6,000 m
120,000 Lm
1

Strobe

6,000 m
180,000 Lm
1

Torch

1,000 m
350 Lm
1

Torch

300 m
10,000 Lm
1

Strobe

300 m
30,000 Lm
1

Torch

1,000 m
or
6,000 m
5,500 Lm
2

Torch

6,000 m
30,000 Lm
3
TYPES OF LIGHTING PRODUCTS
Torches produce sustained light output. These lights are often dimmable, and they are perfect for exterior illumination around a submersible or structure, drive-lighting or steady illumination for video capture.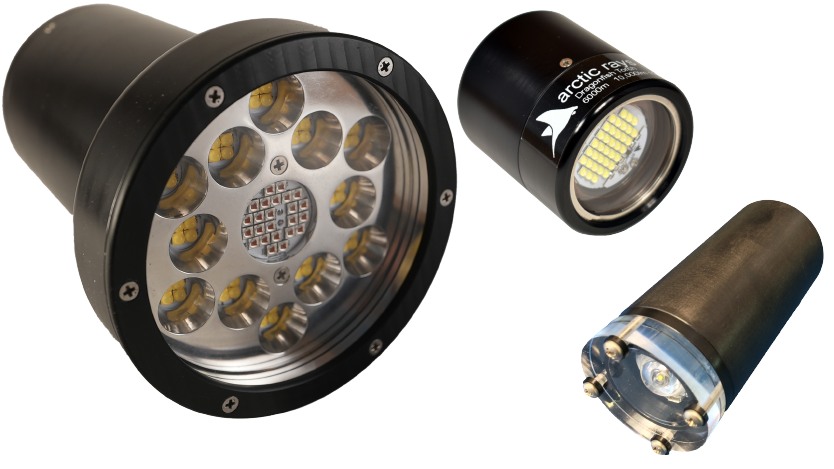 Strobes are able produce a higher lumen output (a brighter light) than torches because they are not sustaining that output—instead, they produce very short bursts of light. Strobes are perfect for brightly lighting a subject during still-image photography.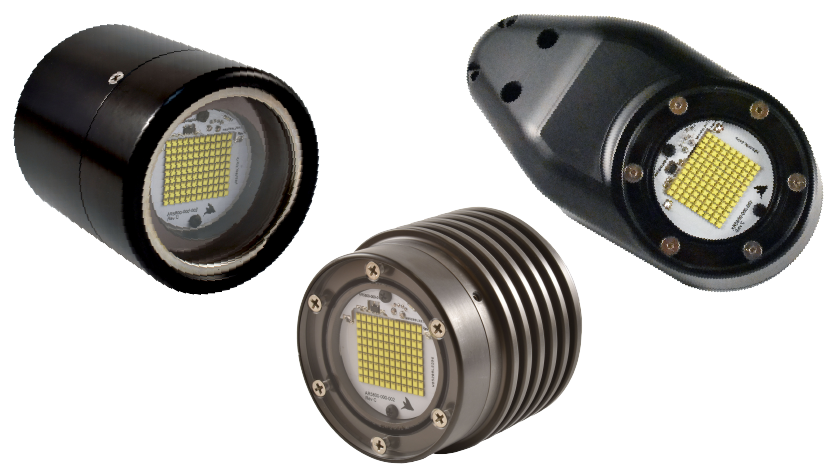 The Arctic Rays Difference
What makes Arctic Rays' series of lighting products different from others'?
Patented Technology
Our strobes are built upon the proven, patented and proprietary strobe-driving technique that founded the company. This technology utilizes LEDs in a way that nobody else does, delivering increased lumen output with less power draw in a small form factor.
Specs You Can Trust
All our lighting products deliver quality LED technology with better color rendering, energy efficiency, short lead times and verified output brightness. Every finished product is tested and verified to deliver the specs promised, so customers can trust they are receiving the quality they expect.
Tailor-Made Tech
We have a wide breadth of knowledge and practical experience within our small team, so we are not afraid of new R&D or customization of existing products. Most of our competitors fiercely avoid this, but we embrace it. Our nimble, agile team is able to take action and change designs easily.
Sign Up for our News Feed
You never want to miss another post—right?
Plug in your email address here to be notified when we post about cool tech topics.