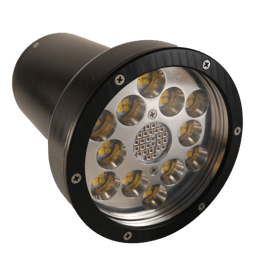 June 9, 2022
Arctic Rays LLC has unveiled its most powerful continuous LED light yet: WolfFish.
The multichannel, ultra-high-output LED torch light sets a new bar with configurable combinations of colors for specialized uses as well as the one-two-punch of wide-flood and focused-beam light, all in a single 6,000-meter-rated housing.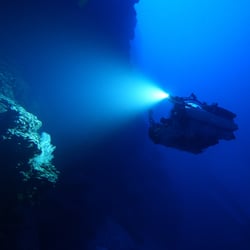 The photo of WolfFish's light emanating from a manned submersible during a field test demonstrates the power the new light packs. Early adopters are finding WolfFish's dynamic abilities can suit a variety of missions, as its ultra-bright, high-quality, dimmable, true-color output make WolfFish a top choice in the industry for blue-chip film making and heavy ROV work alike.
Nowhere else can you find this power, brightness, color quality, dimmability and multicolor light integrated in a single housing with no additional drivers required.
Learn more about WolfFish at the WolfFish product page, part of Arctic Rays' Lighting Series.
Arctic Rays specializes in deep-sea lighting and imaging systems and other custom solutions specifically for use on AUVs, ROVs, manned submersibles and other offshore and underwater structures.
###
Contact:
Arctic Rays
Stephanie R. Herndon
Director of Marketing and Communication
321.610.4635
stephanie@arcticrays.com