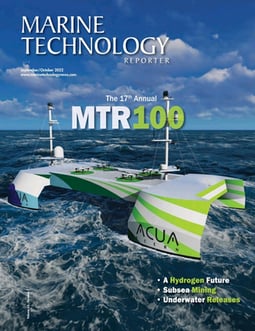 Oct. 26, 2022
Arctic Rays has been featured in the MTR 100, among the top leaders in the global marine technology sector. The annual list of the industry's heavy-hitters serves as a "who's who" guide of tech companies serving the marine industry.
"Inclusion in the MTR 100 is a testament to the company's innovation and growth over the past several years," says co-founder and general manager Dirk Fieberg. "In the last year specifically, we've doubled our employee count and expanded our product portfolio considerably."
"Since founding the company in 2015, we've been laser-focused on raising the bar for the industry in terms of the capability, quality and accessibility of the technology available to the experts using these products," says the company's co-founder and director of engineering, Lee Frey.
This approach is interwoven into every Arctic Rays system shipping from the company's labs to the world's oceans, and results in a higher standard for subsea equipment.
"Being in the MTR 100 means people are noticing. And we aren't slowing the momentum anytime soon," Frey adds.
Marine Technology Reporter's annual MTR 100 honors the underwater technology industry's top 100 leading businesses. Now in its 17th year, the MTR 100 list of top companies to watch in 2023 has been released in the magazine's September/October 2022 issue, available in print and online.
###
Contact:
Arctic Rays
Stephanie R. Herndon
Director of Marketing and Communication
321.610.4635
stephanie@arcticrays.com